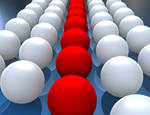 The Right to Privacy is not distinctly defined in the U.S. Constitution, but rather it is inferred in the 1st, 4th, 5th and 14th Amendments.  Many of U.S. citizens believe that the right to privacy means that they have the right to be left alone.  However, this is a very narrow thought.
The Constitutional Right to Privacy has developed alongside the statutory Right to Privacy.  However, the Right to Privacy is balanced against the public interests rights and compelling interest.  Compelling interests include the promotion of public morality, protection of individual's security and private health.
Access to Personal Information
Who has access to our personal information?  With the evolvement of the Internet browsers collect "cookies" and trails to our computers as well as, names, emails, locations, social security information, banking and financial information.  Right of Privacy legislation has been enacted since identity theft, disclosure of collection information, disclosure of health records and many other exposures.
Read The Right to Privacy and Social Networks
Federal Protection of Privacy Can be Found in These Statutes
15 U.S.C. § 45 The Right of the FTC to police privay
5 U.S.C. § 552a The Right to Privacy Act
15 U.S.C. §§ 6801-6809 The Graham Leech Bailey Act – The Financial Modernization Act of 1999
15 U.S.C. § 1681 et seq. The Fair Credit Reporting Act
15 U.S.C. §§ 6501-6506 The Children's Online Privacy Policy Act COPPA