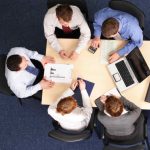 Enhancing your ability to communicate and keeping thses skills in a development mode is a key to success in all careers.
The process of Communication as a field combines words, graphics, sound, social sciences and the law and the study of the interaction between these areas.
We communicate in commerce through various formats: literature/writing, audio/music, digital/print, video/film.  In today's world of commerce a professional must be knowledgeable in all these aspects, yet usually is only a true master of one.
That is all right to be a master of one, but you must master one.  We endorse "Jack of all Trades", master of one!
Why "master of one?"  There is a reason a very sound reason.  No one reaches it to the top alone!  For instance, take a website from start to finish.  Many companies expect an employee to be the writer, the web layout designer, the graphics designer and the IT design coder.  Would you rather have the creative input of four (4 positions) or the input of one if you own the company?
For this very reason, we urge creative freelancers, communications majors and media professionals to come on board to The Communications Journal T-E-A-M, together-everyone-achieves-more!
REad About The Right to Privacy in Communication Law
Who is on your media support team?
If you would like to contribute to The Communications Journal, please send us an email.