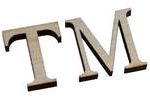 Your logo is important to your company's future.  Most people start by deciding what they like, however we recommend that your logo take on business priorities.  Here are some considerations.
Trademark – Your logo is going to be your Trademark.  This mans that the sound of your company is your word mark and the symbol is the service mark.  They are both Trademarks.  If you do not file the marks it is possible that at some point you will not own the mark.  You can read more about trademarks and begin the important process here.
Legal Logo Identification – Your logo must be identifiable to be considered a logo or trademark.  For instance, if you use a basketball as a logo and your company is a hat company and you just happen to want to market to basketball players the picture of a basketball will not identify that you are a hat company.  This cannot be registered and is not considered a logo.
Good Logos and Company Names Start Simple – If your company produces "T shirts" and you call your company Joe's T Shirts, you are off to a good start.  Though it may not seem exciting, it is a sound idea provided there is not another Joe who owns a T shirt company.  "Joe's T Shirts" would be your word mark and you could not make a claim to Joe or T Shirts only Joe's T Shirts.  If someone wants to start Jim's T Shirts as long as their picture does not look confusingly similar to yours, Jim can trademark his logo.
The Style of Your Logo – If your company survives for 100 years, what would your mark look like as you imagine.  Would it still be "cool" and "contemporary"?  This is why simple logos work well.  You can add new logos and trademarks as you succeed.
The Shape of Your Logo – Your logo is going to be everywhere.  It might even be on other people's websites, stationary and the like.  Would your logo compliment others?  We recommend simple shapes, box, rectangular or line.
At The Communications Journal, we specialize in the creations of the full package fo rour clients: the logo, the trademark registration, the business cards and the websites.  If you need help call us for a free consultation at 646-345-4139.